Montana, Izaak Walton Inn
While in Glacier Park I happend to meet an old DEC friend, Ned Berube. I worked with Ned in 1982, but had not seen him in years. It was great to see him again, and in our discussion they mentioned they were staying at the Izzak Walton Inn. It sounded like a neat place, so we stopped by, and found we could get a room.
The Inn was originaly built to be for railroad crew of the Great Northern Railway, about 1939. It was extensively remodeled in 1995, and is now a wonderful place to stay. The rooms are pleasant, but very old style.
This is right on the main line of the Burlington Northern Santa Fe railroad, and they say trains come through about 40-60 times a day. We saw many LONG freights come through, one pulled by 5 engines and pushed by 2 more. They are really working here for the eastbound ones, because its only a few miles from Marias Pass, the summit of the continental divide.
There is a big porch, with a couple 2 seat bench swings, and hummingbird feeders that keep flocks of them in sight. We watched a couple nice trains go by.
We had dinner here, and it was the best food of our entire trip. There is a fine bar, with lots of railroad decorations, and wireless internet! So I was able to catch up on my mail and write these pages.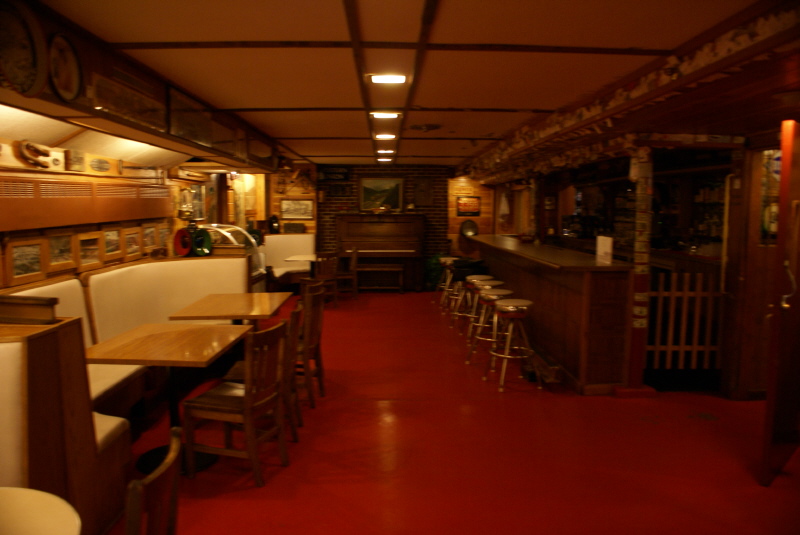 We met a very interesting couple here, John and Linda Lightbour. They are riding bicycles across the country, from Seattle to Bar Harbor, Maine. They have a web site for the trip at www.crazyguyonabike.com It was raining in the morning, but they headed out anyway.
The Inn is a stop on Amtraks Empire Builder, and several people boarded here this morning on the Eastbound train.
So far this has been the best stop of the trip.