Washington, Seattle to Mt. St. Helens
From Leavenworth we headed into Seattle, and back to major traffic and crowds. Bonnie wanted to visit with a woman from the New Orleans trip last winter that has moved to Seattle. We found our way to her neighborhood, met her, and had a nice Indian lunch.

Then it was back to I-5 and past Seattle to the Ferry for Vashon Island, to see friends, Jill and Scott. We stayed with them two nights, and had some very nice quiet time, just relaxing and talking with a short ride around the island, and a visit to a winery where Scott works.

Saturday morning it was off to the ferry and heading South. Feels like we have really turned the corner on this trip now. Down I-5 about 100 miles to Mt. St. Helens. This is the view from the visitor center just off I-5, still about 40 miles from the mountian
Since the 1980 erruption there has been a lot of work done in the area. A totally new road, about 30 miles long, has been built into the mountain, above the valley of the river that carried the major runoff from the erruption. Its a spectacular ride, over some huge bridges. This road must have cost the taxpayers a fortune!
The first part of the ride is through an area the Weyerhauser Paper company owns. They have cleared out the downed timber and planted 18 million new trees. It has grown well in the 22 or more years and almost looks untouched. There are a couple new visitor centers that explain the work. There is a clear plan to have part of the area restored, and leave part for nature to take its course.
This is a view down into the river valley. The flat area is mud from the runoff that filled the valley over 150 feet deep. The flat area has been seeded, new grass is growing and there are lots of elk in the area.
This view is getting close to the top, and in an area where no restoration has occurred. There are zillions of trees still laying out as they fell, all in neat lines. You can also see some of the very deep mud, with canyons formed by the errosion.
This is from the top visitor center, looking right into the side of the crater. You can see the new dome from the continuing erruptions that started in 2004. This erruption is very slow, just a few cubic feet per second, but it grows noticeably from day to day. Note the steam rising, on the right edge of the dome. It looks like part of the clouds, but it is steam. The rising lava dome has forced the glacier to spread apart, with two distinct flows now moving around the lava. They are likely to re-join and surround the lava dome.
Things are still very active at Mt. St. Helens.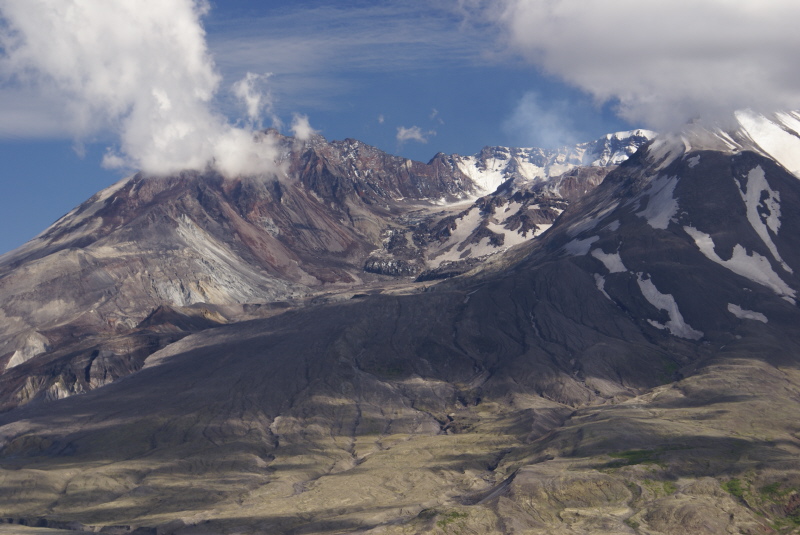 Looking right down to the base of the crater the depth of the new mud and rock is more apparent. This all filled up first as mud and ash, then floods of water from the lake and from the melted glaciers flowed over it and erroded it to these canyons.