Taking the long way home
The boat is in Ottawa, Ontario. My home is in Boothbay Maine. I will be following several canal and waterways on the cruise. Here is a map of the entire route.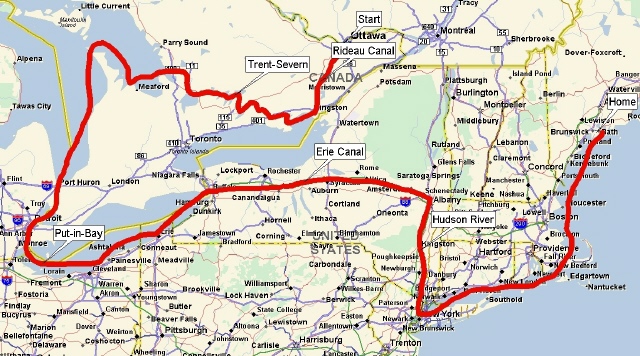 The are about 12 major legs of this trip.
Rideau Canal About 125 miles and 45 locks between Ottawa and Kingston Ontario. It ws opened in 1832 and remains today in essentially 'as built' condition. I believe it had a major overhaul about 1980. Mostly it follows rivers and lakes, with about 12 miles of dug channels. See Friends of the Rideau for more info.

Thousand Islands At the end of Lake Ontario, as the names says, lots of islands. We will cruise around here a couple days, to look and to get a chance to see how the boat runs on open water.

My wife will take a bus from Kingston back to Ottawa to retieve the car, and return home- its prime gardening season in Maine and she has the strange view that gardens are more fun that boats.

Trent-Severn Waterway Another 300 miles and 45 locks, again mostly through rivers and lakes, with connected canals. Among the locks are 2 hydraulic locks- among only 4 or 5 in the world. Think of an old gas station car lift, with the big hydraulic cylinder in the floor. Only this one the lift is a cast iron bucket of water. The one at Peterborough is the highest in the world, a lift of 65 ft. Its 140 feet long and 7 feet deep.

See Friends of the Trent-Severn for more info.

Georgian Bay and Lake Huron This is another great place to cruise, and I have not been in Lake Huron since my college days and crewing on the Mckinaw races. But I think I'll just make a direct run around Tobermory, and down the lake to Port Huron. This will be one of my longest runs, about 150 miles, up to about 30 miles off shore.

St. Clair River, Lake St. Clair and Detroit River. This is really old home territory. I grew up here, and did lots of sailing in the area, but I havent been on a boat here since 1971. Lots of places to see, and of course, take my father and brother for a boat ride.

Lake ErieThe western end of the lake includes some islands called Put-in-Bay. I was here often in the mid 60's, so again some old home times. But then another long haul east with possible stops in Cleveland and Erie, PA. Not much to see, but a time to put the throttle to the wall and listen to the diesel sing as the autopilot does its job.

Erie CanalAbout 300 miles and 35 locks- I should get good at passing through locks! Ive just found a new history, WEDDING OF THE WATERS, by Peter Bernstein to read as I work though this canal. Ive driven along this one at least 2-3 times per year since 1971, so now I get to follow the river, and watch all those cars speeding along the NY Thruway.

Hudson river I dont expect to stop much along this one, just a rdie and looking. But of course it ends at NYC, and Ill have to circle the Statue of Liberty, maybe spend a night at Liberty State park, and possibly a stop at the South Street Seaport, if they have visitor docks.

Long Island Sound By the time I get here Ill likely be 'smelling the barn' amd anxious to get home, but Ill stop at Mystic Seaport, and probably run out to Block Island. Maybe a turn up past Newport, maybe even a stop at the Albin factory.

Buzzards Bay and the Vineyard. Another 'old home area', as I sailed my Folkboat here in the early 1970s after I moved out from Detroit. Ill have to stop on the Vineyard, run through Woods Hole, and up the Cape Cod canal.

Massachusetts Bay Ill likely run by some of the islands in the harbor, maybe see a friend or two, then head into Glouchester.

Gulf of Maine Its homeward bound now- I expect to head out of Cape Ann and set the autopilot on Portland head. Maybe a stop in Casco Bay for my last night on the boat, then around Small Point, and up the Damariscotta River to my mooring.
So, thats my plan. Subject to change by weather, and whatever else happens. For the first time in my life I have no deadline- I will be home when I get there, maybe 4 weeks, maybe 6.