It was a long winter!
During the winter of 2004-2005 I guess I got a bad case of cabin fever. I started thinking a lot about getting a new and bigger boat and about taking that long cruise I had always wanted to make.

This is a two part story- a boat, and a cruise. They are of course related, but they are also two separate dreams.
The Boat, Plan 1
For several years I have thought about building a cruising motor boat- my first dream was to build Czarinna a beautiful 35 ft fantail, twin diesel cruiser. I chartered the original boat in 2001 for a wonderful week on Puget Sound. Living on the boat for a week helped me understand what a large and comlicated boat it actually is. Beautiful, but to expensive for me.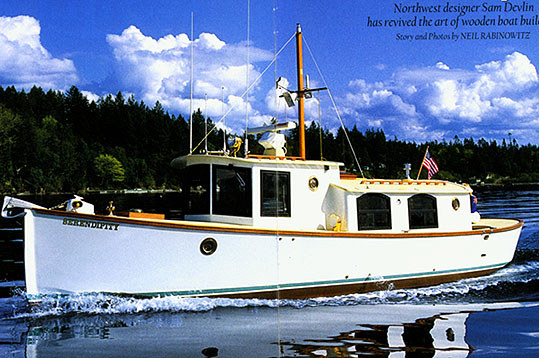 So I scalled back my dreams a bit and bought the plans for MALEO, a 32ft cruising Tug designed by Charles Witholtz. I had those plans on the walls of my last cubical when I worked at Compaq. I told everyone I was going to retire and build the boat.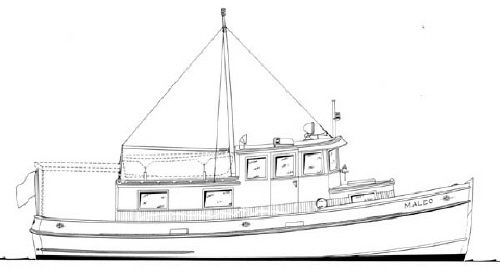 Then I saw Carl Stambaughs work and thought I had finally found the correct level of design and simplification in his Redwing 34. I even had him draw a modified Tug version of his design. Ive spent hours looking at the plans and thinking about building it.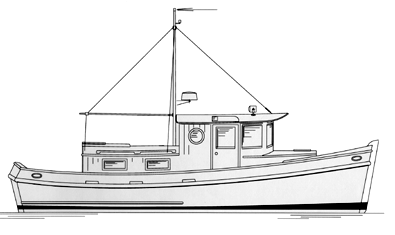 But all of this has just been dreams, I just have not quite been able to start such a large project. So this winter, I decided it was time to buy a boat and get on with a cruise.
The Boat, Plan 2
I decided I'd buy a used lobster boat and clean it up into a yacht. I looked at a few boats, even drove to Gloucester Ma to try one, but it became clear that was going to be almost as much work as building from scratch, if I was going to get a boat to my standards.

I talked to my boatyard friend, Mike Nyboe, and he suggested a couple boats I should look for. The most promising was an Albin 27. It had the 'downeast' look I wanted, they were diesel powered, of modest speed (cheap to operate) and seemed to have the accomodation I wanted for cruising with my wife, and some singlehanding.

So, I started looking for Albins. Google and Yachtworld.com found me several listings. I studied them, reading all the descriptions, and finally decided to call a couple of the brokers. Thats when I found out Albin 27's sell very fast. Every one of the boats I found listed had already sold, some in only a few days after posting.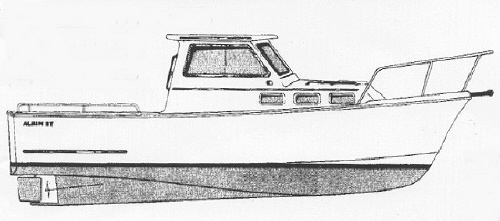 Now I was annoyed, I wanted an Albin 27 and I couldnt find one. On Easter I was browsing the web at my daughters house and I asked Google for 'albin 27 for sale'. I got a hit, in a page on a trawler forum where John Murray said he was planning to sell his 27 and upgrade to a 30. I sent off an e-mail and found he had not sold the boat, in fact his ad had not yet appeared in print.
So after several e-mails and long phone conversations a deal was struck, and I was about to become an Albin 27 owner. I sent off a deposit check, and made plans for a visit to Ottawa to see the boat, and have a formal survey made by a professional Marine Surveyor.
See some details of the boat.
The Cruise
I started boating when I was in college, in Detroit. During my last couple years (1963-1965) I did a major rebuild of a 25ft yawl with the intention of sailing it around the Great Lakes, The Erie canal and the Intercoastal Waterway. For a lot of reasons, I never made the trip, instead I went to work the Monday following my last day in college.

Over the years I have continued to think about some variation of that trip. After I moved to New England in 1971 I drove along the Erie canal at leat 3 or 4 times a year as we returned to visit family in Detroit. I always said someday I was going to do the trip.

So here is where the two parts come together- I've found the boat I want, and it's located such that the Erie Canal is a logial route to bring it home. Now, any sane person would call a trucking company and have the boat shipped home. It would probably cost less than its going to cost for fuel and food and all the expenses of a month trip. But this is my chance for at least part of the trip Ive always wanted to take. And I only have to run it one way.

See The route for my planned trip.
Trip Log
I kept a log of the trip as I went along, with lots of photos. I found access to the net along the way in libraries, and even a couple marinas with wireless access.

Here is the The Trip Log

Hope you enjoy reading about my boat dreams!